GEpartnership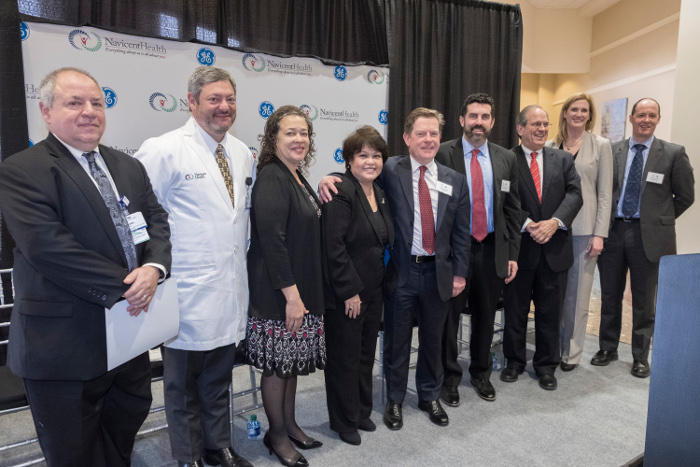 GE Healthcare and Atrium Health Navicent Enter Relationship to Reduce Costs, Improve Patient Care and Target $150 Million in Savings over Six Years
GE Healthcare to provide transformative consulting services, advanced analytics, and leading technology to deliver innovative patient centric care
Accelerate integration of technology resources to ensure the system has access to technology as needed to improve the patient experience
MACON, GA - February 22, 2018 - GE Healthcare and Atrium Health Navicent have announced plans to transform healthcare delivery and reduce the cost of care in central Georgia for the benefit of the local community. Over the course of the next six years, the two entities will work side by side to make system-wide improvements that will cover every aspect of care delivery and generate up to $150 million in improvements for Atrium Health Navicent.
"We are excited to collaborate with GE Healthcare, a company that brings access to market leading resources, expertise, advanced analytics, and proprietary tools to help us transform how we deliver care to our patients," said Dr. Ninfa Saunders, FACHE, President and CEO, Atrium Health Navicent. "This is NOT a quick fix, rather a steady and strategic approach to developing sustainable solutions that will enhance our entire system allowing us to deliver higher-quality care at a lower, and more consistent, cost." Based on mutual goals, the collaboration will target clinical, operational and financial outcomes - all of which are expected to promote growth, enhance synergies across the system and accelerate efforts to provide high quality care in an environment that appeals to its employees. By working together, GE Healthcare and Atrium Health Navicent expect to drive change and reshape the future of the health system, creating a "One Atrium Health Navicent" continuum of care to deliver high quality, efficient and relevant care to its community and beyond. Over the course of the relationship, the two organizations will adjust and respond to industry trends and meet the current needs of the community. For example, GE Healthcare will help Atrium Health Navicent build operational pathways to improve patient flow and create analytics that provide the care team with critical information which will allow them to make real-time decisions to improve patient care and optimize the capacity of the system.
"The future of healthcare is about recognizing the needs of the system, then aligning technologies, services, and activation of new methods to support the system as it creates access for the right patient, at the right time," said Helen Stewart, Managing Principal, GE Healthcare Partners. "Hospitals face increasing cost pressures, patient demands and workforce challenges that put a strain on staff and their ability to provide quality patient. Atrium Health Navicent demonstrates an eagerness to apply innovative thinking and a passion for real change, which makes them an ideal partner for us."
Atrium Health Navicent is the latest health system to join GE Healthcare's cohort of systems which have embarked on long-term, strategic risks-sharing relationships with the company over the last two years. This is GE Healthcare's sixth collaboration of its kind. "By working with GE Healthcare, we are confident that we will experience operational excellence and improved patient satisfaction while achieving financial stability," said Michael Esposito, Chief Operating Officer, Atrium Health Navicent. "We believe this strategic collaboration will help solidify Atrium Health Navicent's position as a leading healthcare provider in this community and strengthen our commitment to delivering clinical, operational and financial outcomes for our patients, employees and the communities we serve."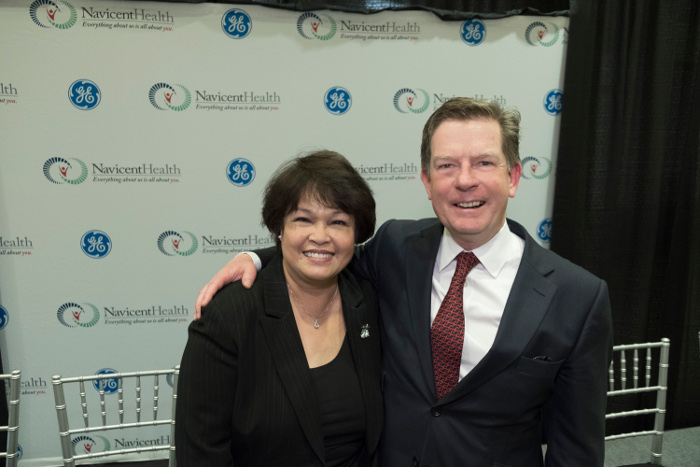 About GE Healthcare
Harnessing data and analytics across hardware, software and biotech, GE Healthcare is the $19 billion healthcare business of GE (NYSE: GE). As a leading provider of medical imaging equipment, with a track record of more than 100 years in the industry and more than 50,000 employees across 100 countries, we transform healthcare by delivering better outcomes for providers and patients. Follow us on Facebook, LinkedIn, and Twitter or The Pulse for latest news.
About Atrium Health Navicent
Atrium Health Navicent was incorporated on November 17, 1994 as a nonprofit corporation whose primary purpose is to coordinate Atrium Health Navicent The Medical Center and other affiliated entities in their mission of providing a comprehensive continuum of high quality, reasonably priced healthcare services to the region. Atrium Health Navicent has 970 beds for medical, surgical, rehabilitation and hospice purposes. The health system includes Atrium Health Navicent The Medical Center, a nationally recognized tertiary teaching hospital; Atrium Health Navicent Beverly Knight Olson Children's Hospital, the region's only dedicated pediatric hospital; Atrium Health Navicent Baldwin and Medical Center of Peach County, Atrium Health Navicent, both rural critical access hospitals; Rehabilitation Hospital, Atrium Health Navicent, the region's oldest and most experienced rehabilitation provider; Atrium Health Navicent Hospice Pine Pointe, Atrium Health Navicent, which provides palliative and hospice care in homes and in its facility; Atrium Health Navicent Carlyle Place, Atrium Health Navicent, the area's first continuing care retirement community; Navicent Health Foundation, the philanthropic arm of Atrium Health Navicent; as well as diagnostic and home care services. For more information, please visit www.navicenthealth.org.