Atrium Health Navicent Primary Care West Macon
Warren Hutchings, MD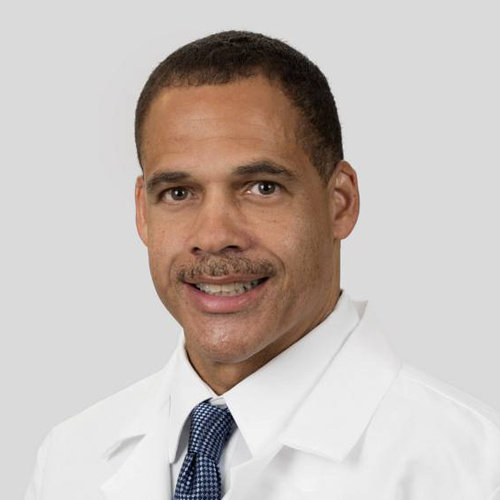 Warren S. Hutchings, M.D. is a native of Macon, Georgia and graduated second in his class to his twin brother from Northeast High School. Dr. Hutchings entered Vanderbilt University to pursue a career in medicine. After completing his junior year, he entered a premed summer program at Howard University which strengthened his interest in medicine. He chose Morehouse School of Medicine due to its strong commitment to primary care. After graduation in 1990, he returned to Macon, Georgia to complete his residency in Family Medicine. Since 1993, he has been a family physician in Macon.
In 1993, Dr. Hutchings reorganized the Macon Academy of Medicine, Dentistry and Pharmacy and founded the Middle Georgia Medical Society. Under the leadership of Dr. Hutchings as its President from 1997-2000, MGMS was voted National Medical Association Local Society of the Year, Small Chapter for 2000. Dr. Hutchings served on the NMA Board of Trustees from 2002-2004 as NMA Region III Chair. He served as Convention Chair and Moderator for the NMA Region III Scientific Program at the Half Moon Resort in Montego Bay, Jamaica in 2004. He is MGMS CEO and served as President then Board Chair of the Georgia State Medical Association from 2010-2014.
The professional career of Dr. Hutchings began with him working with his twin brother and his oldest brother in a family medicine practice for 13 years in Macon, Georgia. Dr. Hutchings has been an Assistant Professor of Family Medicine at Mercer University School of Medicine since 1994. He served as Director of Mercer Student Health Services, and as a Team Physician for Mercer University Athletics from 2006 to 2017. He is employed as a Family Medicine Physician by the Atrium Health Navicent Physician Group. He served as an IPAG Medical Director and has served on the Executive Committee for the Association of Vanderbilt Black Alumni. Since 1993, Dr. Hutchings has been Board Certified in Family Medicine. He has received the Distinguished Alumnus Award from Morehouse School of Medicine in 1999, NMA Region III Outstanding Service Award in 2005, GSMA Presidential Commendations in 1996, 2001, 2006, 2009, the President's Award in 2012, the Dr. George A. Johnston Sr. Community Service Award in 2004 and 2008, plus the MGMS Outstanding Leadership Award in 1996 and 2000. He received the NMA 2013 Practitioner of the Year Award July 27, 2013 and the GSMA Distinguished Service Medallion June 12, 2014. He has performed research as an investigator for "The Asthma Control Test and Asthma Control in African-Americans in Rural, Urban, and Suburban Georgia" 2005-2006. He created the MGMS website in March 2010. He was appointed to the Georgia Health Information Network Board (GaHIN) in 2011. Dr. Hutchings serves as Faculty Advisor for Mercer SNMA and SNMA-MAPS programs.
Active in his community, Dr. Hutchings is a member of Washington Avenue Presbyterian Church. He is married to Tami Hutchings and they have twins of their own, Sydney and Weldon Hutchings. Dr. Hutchings speaks to local high school and college students to nurture their interest in health careers and encourages young physicians to become more involved in organized medicine as physician leaders as he did early in his career.