Atrium Health Navicent Imaging & Laboratory, a Facility of Atrium Health Navicent The Medical Center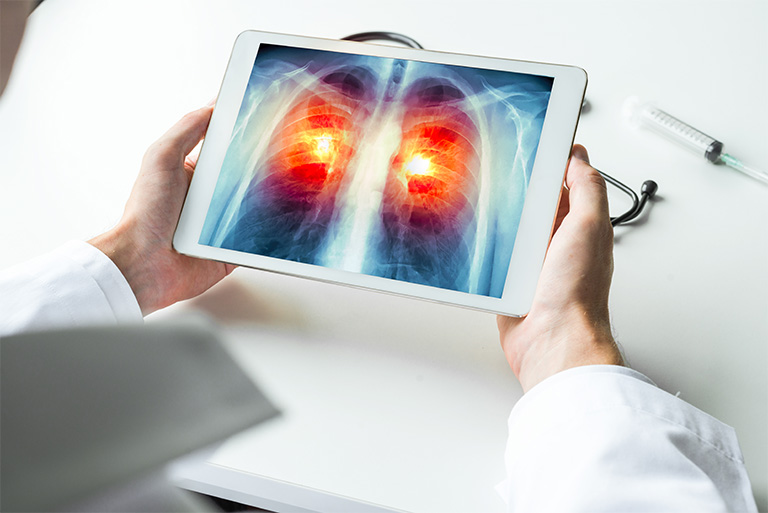 Lung Cancer Screening Program for Early Detection
Atrium Health aims to find lung cancer early - when it's most treatable. Our Lung Cancer Screening Program screens patients who are at high risk for lung cancer and connects them to advanced, comprehensive care if cancer is found.
Lung cancer is the number 1 cause of cancer death in the United States, for men and women. Often signs or symptoms don't develop until lung cancer reaches an advanced stage, when it spreads to other parts of the body - and is very difficult to cure.
Find out if lung cancer screening is right for you.
About lung cancer screening
What is lung screening?
Lung cancer screening is quick and painless. We use a low-dose CT scan to take a detailed 3D picture of your lungs, using a small amount of radiation (up to 90% less than a conventional CT scan). The CT may show normal, healthy lung tissue. Or it may show a small, round growth (nodule) or other findings like emphysema (a lung condition that causes shortness of breath). Any abnormal findings will be carefully reviewed by our expert team and a diagnosis and treatment plan will follow when needed.
Is lung screening right for me?
You're at a higher risk of getting lung cancer depending on your age and smoking history. The U.S. cancer taskforce in charge of providing preventive efforts recently released new guidelines for lung screening. The age range is expanded, and the number of packs smoked in a year is even lower - meaning you may now be encouraged to get screened for lung cancer.
You may be eligible for lung screening if you:
Are 50 to 80 years old
Smoked cigarettes in the last 15 years
Have a 20 pack year smoking history, for example:

1 pack of cigarettes per day for 20 years or more
2 packs of cigarettes per day for 10 years or more
1/2 pack per day for 40 years or more
If you're eligible and decide to be screened for lung cancer, it's important to be screened once a year, every year, until you're no longer considered to be at high risk of developing lung cancer. Still not sure if you're eligible? Take a quiz to find out.
Patient care - what to expect
We offer the latest approaches in screening, diagnosing and treating lung cancer. Here's what you can expect from our team of specialists:
Pre-screening appointment
You'll have a shared decision-making conversation with your provider to go over your smoking history, eligibility for screening, the benefits and risks of low-dose CT scans, and more. After this appointment, your lung screening will be scheduled.
During your screening appointment
Similar to a colonoscopy or mammogram screening, you'll show up for your scheduled appointment at one of our radiology facilities, get checked in, receive the low-dose CT scan and then be on your way. The appointment should only take about 20 minutes from start to finish.
Getting your results
Your screening results will be posted to your MyAtriumHealth account. Your provider may share your results with you over the phone as well. Don't have a MyAtriumHealth account? Sign up now.
Next steps if a lung nodule is detected
When we see a lung nodule or anything that looks abnormal on an imaging scan, we'll investigate to determine next steps, which may include:
Monitoring with follow-up low-dose CT scans
Reviewing the lung nodule with our multidisciplinary team of experts to guide next steps
Determining if the nodule is cancerous using advanced diagnostic, minimally invasive techniques
If lung cancer treatment is needed
Whether caught in the early stages or late, we'll connect you to the highest-quality lung cancer treatment at Cancer Life Center at Atrium Health Navicent. Depending on your case, you may undergo minimally invasive thoracic surgery to have a lung nodule removed, which is the most common treatment for early-stage lung cancer. Or you may receive nonsurgical treatment, like targeted radiation therapy.
Personalized care
To develop the very best care plan for you, we tap into the combined expertise of a range of specialists, which may include radiologists, pulmonologists, thoracic surgeons, screening navigators, oncologists and radiation oncologists. Working as one team, we come up with the most effective plan for your unique case. We also take the time to listen to your thoughts and concerns and make sure you're involved in decisions about your care.
Help to quit smoking
If you're still smoking and are ready to quit, our tobacco cessation program can help. We can prescribe medication to manage your urges, identify your smoking triggers and help you come up with a plan to quit. Learn more at 478-633-8850.
Frequently asked questions
Most major insurance plans and Medicare do cover lung screening though some have different requirements for screenings to be covered. For instance, some plans like Medicare may only cover screening for ages 50 to 77. To understand cost and coverage, contact your insurance provider.
A lung nodule is a small, round abnormal growth of tissue that remains in the lung following an infection, like pneumonia or bronchitis, or for some other reason.

Fortunately, most lung nodules - well over 90% - are noncancerous.
A lung nodule looks like a small dot on the CT scan that is usually surrounded by normal lung tissue.
A low-dose CT scan uses radiation to take pictures of your lungs. Radiation can increase a person's risk of developing cancer. But the amount of radiation you receive during a low-dose CT scan is very small, about half the amount you're exposed to each year doing everyday activities. You can talk to your provider about the risks versus the benefits during your pre-screening appointment.
Find a location
We have four convenient lung cancer screening locations. Call 478-633-9111 to be connected to a screening site near you.
Atrium Health Navicent (Central Georgia Diagnostics)
1650 Hardeman Avenue, Macon
Atrium Health Navicent Monroe
120 North Lee Street, Forsyth
Atrium Health Navicent Peach
1960 GA-247CONN, Byron
Atrium Health Navicent Baldwin
821 N Cobb St, Milledgeville