Atrium Health Navicent Heart & Vascular Care
Minimally Invasive Heart Surgery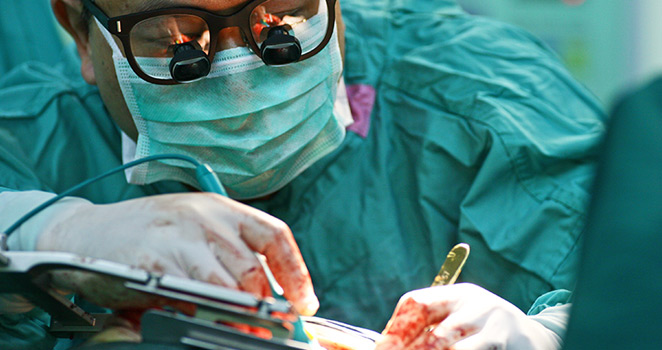 The Advantages Of Minimally Invasive Heart Surgery
During the past several years, the use of minimally invasive heart surgery has increased dramatically. Experts believe this is because so many benefits associated with this type of surgery have been discovered.
Advantages
With minimally invasive heart, surgery there is less blood loss when compared with traditional surgery. There is also a decrease in the discomfort experienced after the operation. There is a shorter incision healing time, and a decreased chance of infection. It also makes heart surgery possible for individuals who may have previously been considered not physically able to have traditional heart surgery. Minimally invasive heart surgery requires a shorter time to recover. It also results in smaller scars that are much less noticeable than scars from traditional heart surgery.
Determining Fact
Determining if a person is a good candidate for minimally invasive heart surgery, there are a number of things to take into consideration. This includes such things as the patient's physical build and weight, type of heart surgery, patient's age as well as if there are any other health conditions like lung disease and more present. In some situations, it is safer for a person to have traditional heart surgery. A surgeon may request a series of tests be performed, as well as medical review, prior to determining if a person will benefit from minimally invasive heart surgery.
Risks
When a surgeon determines that an individual is capable of having minimally invasive heart surgery, the chances of complications occurring is very small. The risks with this type of surgery are the same as with any type of traditional heart surgery. There will medical precautions are taken to avoid excessive bleeding, blood clots, strokes as well as any type of infection and more.
Types Of Heart Surgery
There are a number of minimally invasive heart surgeries that are regularly performed. They include everything from aortic valve surgery to tricuspid valve surgery, maze heart surgery, atrioventricular canal defect surgery, mitral valve surgery and more. Not all individuals or situations will benefit from this type of surgery.
Heart Bypass Surgery
Minimally invasive heart surgery is done using a small incision between a person's ribs. This will only be done with one or two bypasses are required. The arteries requiring the bypass must be located at the front of the heart. This method is not used with the arteries requiring bypasses are located at the back of the heart. In this situation, the surgeon would not be able to gain proper access to the arteries located at the back of the heart with a small incision.
Off-Pump Heart Bypass Surgery
This surgery is designed to create a new route for the oxygen and blood in a person's body to reach their heart. It is possible for minimally invasive heart bypass surgery to be performed without the need to stop the heart. This means a person will not require being put on a heart-lung machine during the surgery. When this procedure is performed, an incision approximately five inches in length will be made between the ribs. The chest muscles are then moved apart. A small portion of the area from the front of the rib will be removed. The surgeon will then locate and prepare an artery. This will be attached to the blocked coronary artery. A device is hooked up to the heart to stabilize it. The patient will also be given medication to slow down their heart rate.