Navicent Health Greatly Urges Final Prep for Hurricane Irma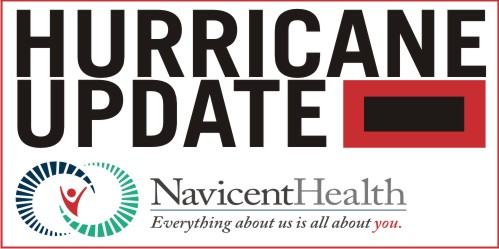 Batten down and be prepared! As Hurricane Irma makes its way toward the Midstate, be sure to prepare the outside of your home for tropical storm force winds and potential tornado activity. Sustained winds of 40 mph and gusts of 60 mph are expected at this time.
Residents should do the following:
- Remove/throw away loose limbs or yard debris
- Store away patio furniture
- Park vehicle in garage if possible
- Plan for a safe place indoors for your pet
For further updates during Hurricane Irma, including possible facility closures at Atrium Health Navicent, please monitor our Facebook, Twitter or Instagram accounts as well as www.navicent.org
About Atrium Health Navicent
Atrium Health Navicent was incorporated on November 17, 1994, as a nonprofit corporation whose primary purpose is to coordinate the Medical Center, Navicent Health and other affiliated entities in their mission of providing a comprehensive continuum of high quality, reasonably priced healthcare services to the region. Atrium Health Navicent has 830 beds for medical, surgical, rehabilitation and hospice purposes. The health system includes The Medical Center, Navicent Health, a nationally recognized tertiary teaching hospital; Atrium Health Navicent Beverly Knight Olson Children's Hospital, the region's only dedicated pediatric hospital; Medical Center of Peach County, Atrium Health Navicent, a rural critical access hospital; Rehabilitation Hospital, Atrium Health Navicent, the region's oldest and most experienced rehabilitation provider; Pine Pointe, Atrium Health Navicent, which provides palliative and hospice care in homes and in its facility; Carlyle Place, Atrium Health Navicent, the area's first continuing care retirement community; Navicent Health Foundation, the philanthropic arm of Atrium Health Navicent; as well as diagnostic and home care services. For more information, please visit www.navicenthealth.org.
---
---
Top Related News
Holly Jolly Shoppe Donations Now Being Accepted to Benefit Patients at Atrium Health Navicent Beverly Knight Olson Children's Hospital
12/7/23
Read More
Atrium Health Declares Respiratory Virus Season, Visitor Restrictions
12/6/23
Read More
Atrium Health Navicent Physicians Offer Tips for Toy and Gift Safety
12/4/23
Read More