Community Events
Featured Events
***All Classes & Events Are Temporarily Suspended***
As central Georgia prepares to respond to novel coronavirus (COVID-19), Atrium Health Navicent is taking measures to protect patients, visitors and our community. All support groups and education classes for the remainder of March will be cancelled, effective Friday, March 13, 2020. If you have questions about a specific group or class, please contact the event organizer.
---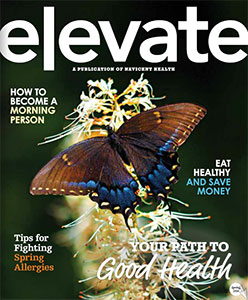 Each month's issue will contain health and wellness articles, tips and tricks as well as delicious and nutritious recipes, access to a health resource library and information about upcoming events at Atrium Health Navicent.
Read the latest print issue of elevate magazine or read our i-elevate digital magazine.