Atrium Health Navicent Women's Care Maternal Fetal Medicine
Grief and Loss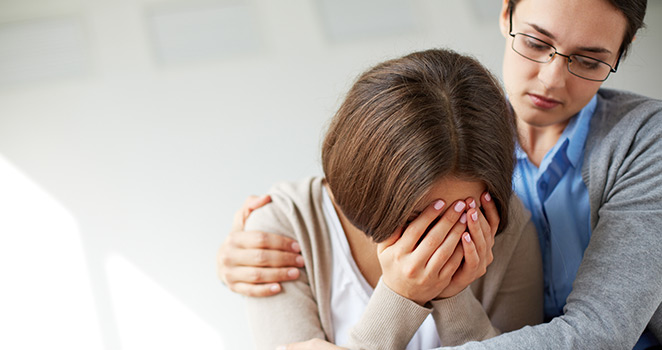 The death of a child during a high-risk pregnancy is a traumatic event that results in grief and loss. Stillbirth, miscarriage, and neonatal death are all traumatic life events. Complications with grief and loss can occur if there is a lack of social support, no surviving children, or pre-existing relationship problems. Studies show that men and women grieve very differently, which may accelerate a decline in a relationship. It is clear that the loss of a high-risk pregnancy has a large psychological impact. Even though parents have not had the chance to build a relationship with their unborn child, grief after the loss of a pregnancy does not significantly differ from other loss scenarios in terms of its intensity.
Grieving Timeline
Symptoms of grief typically begin to decrease in their intensity within the first year. Studies have shown that in a typical grieving process, the grief greatly declines over a span of 2 years after the loss of a pregnancy.
The Course of Grief
While grief and loss are both very personal processes, they usually follow a predictable course. Reactions to grief and loss of pregnancy typically include temporary impairment of daily function, withdrawal from socializing, feelings of yearning, intrusive thoughts, and numbness.
Studies have shown that adjustment after grief and loss occurs through a series of stages. In normal grieving, grief indicators such as anger, disbelief, depression, and yearning, peak within about six months of the loss. For parents who have lost a pregnancy, grief scores are initially very high and decline greatly throughout the first year.
Preparing for Grief
Because pregnancy losses are usually unexpected and sudden, even if they are high-risk, parents have little to no time to anticipate their grief. This also gives them no time to prepare themselves for such a change in their living situation. Due to such high-tech imaging techniques, the only interaction that parents have had with their child up to this point have been inside the uterus (womb), but likely still perceived as being a baby rather than as a fetus.
Feelings After a Loss
Feelings following perinatal loss differ from other forms of grief. The parents commonly feel guilt after a pregnancy loss. Self-blame may make the grieving process last longer than normal, especially if the parent believes they have done something wrong, such as drinking alcohol or exercising too hard. Another unique aspect of losing a pregnancy is that women may feel as if their femininity has been weakened and their bodies have failed. Women who have suffered through multiple losses show higher levels of distress than those who have never experienced a perinatal loss.
Women who are grieving may become envious of other people's children. This may prevent some women from making contact with their friends or family who have children. This may eventually lead to an isolation of the woman.
Gender Differences
The loss of an infant will clearly distress a woman deeply, putting a strain on her relationships with other people. However, it also has a distinct psychological effect on the father. Although many may automatically believe that fathers are deeply affected by the loss as well, there are fewer studies done on the men than the women. Studies that have been done, however, have shown lower levels of the intensity of grief in the fathers than in the mother's. Men typically grieve for a shorter period of time and less intensively than women do.
While the symptoms of grief may be similar in men and women, men report to have less of a need than women do to talk about their loss and they experience fewer bouts of crying. Men have also been found to internalize their grief and deny it, attempting to distract themselves with other things. The coping mechanisms often differ between men and women, and it is thought that these differences may contribute to the decline of the relationship between the father and mother. It is difficult to provide support for a partner while also trying to grieve properly. Studies have shown that the largest risk to a relationship is if there is non-congruent or unequal grieving between the two parents.
A perinatal loss has a great potential to have a big impact on the mothers, the fathers, and the marriage as a whole. While not all do, a significant number of women are found to still be going through the grieving process several years after a loss. Long-term grief is found to be especially high in women who had to terminate an abnormal pregnancy. It is helpful for a grieving mother to involve their male partners in their psychotherapy and ensure proper communication between the couple.
While there are many differences in the risk factors and the patterns of grieving, not much is known about the efficacy of various interventions. However, it is clear that psychotherapeutic monitoring and support are crucial to the healing process.