Atrium Health Navicent Primary Care Monroe
Diagnosis and Care of Acute and Chronic Illness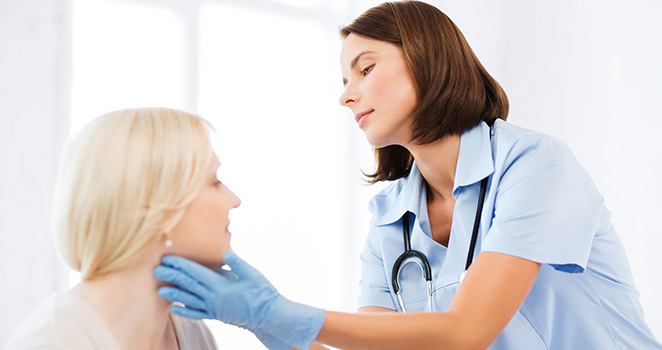 Acute and Chronic Illness: How Your Family Physician Can Help
Family physicians play an important role in providing diagnosis and care of acute and chronic illness. More than ever, in our society, the focus of medicine has shifted from treating conditions in the emergency room, to preventative care and self-management of health conditions. This is especially true for chronic illnesses, such as cancer, heart disease, and diabetes, where health attitudes and self-management make a major difference in the patient's quality of life. Family physicians are on the frontlines of preventative medicine. They can assist with early diagnosis of acute and chronic illness, and their consultation can go beyond just prescription, into the realm of self-management, including beneficial lifestyle changes like diet and exercise.
In recent years, doctors and health care policy-makers have brought a renewed focus to the problem that many individuals, especially those who lack insurance, wait until their symptoms are too severe to be ignored, and then seek care at their local hospital's emergency department. Unfortunately, this is not the best way to treat an illness. Emergency departments are usually overwhelmed, so patients do not get the same personalized care they would from a family physician that has seen them repeatedly in practice. It is difficult for emergency department physicians to coordinate referrals to specialists and even more difficult for doctors to communicate with one another once the patient is discharged. This can lead to problems like inappropriate prescriptions and inability to monitor care and help the patient self-manage their treatment. Often patients have to visit an emergency department repeatedly, especially in the case of chronic illness.
By contrast, a family physician that sees a patient on a regular basis develops knowledge of their medical history, response to prescriptions and other treatments and coping styles. They know local specialists and can communicate with them to better personalize the patient's care. Moreover, they will practice preventative medicine, prescribing medications and lifestyle changes to help a patient avoid bigger medical problems that can grow out of seemingly minor illnesses. With insurance increasingly more accessible and affordable, the option of a family physician as the front line for disease treatment is not only safer but most cost-effective.
Family physicians can be a regular resource for their patients in the diagnosis and care of acute and chronic illness. Acute illnesses arise suddenly, often without warning, and are short-lived. They include everything from the common cold and infections to sprains, strains, and broken bones. Early diagnosis of acute illness is important. An aggressive and informed approach to diagnosis and treatment can prevent that acute condition from developing into a chronic illness that may have a long-term impact on the patient and family.
For a family physician's practice, diagnosis of acute illness begins in the examining room. The physician takes a detailed medical history and uses technical diagnostic solutions. Many physicians have laboratory facilities in their practice, or contract with a laboratory so they can quickly interpret the information from blood draws and other tests. This helps the physician to diagnose the illness and begin treatment. Many acute illnesses can be treated with appropriate medication, for instance, antibiotics for infections. Some require lifestyle changes like bed rest, avoidance of certain foods, etc. If the illness requires specialized care, family physicians may refer the patient to a specialist and coordinate care with the specialist.
Family physicians are a good option for patients with chronic illnesses. These include cancer, diabetes, and heart disease, among others. These are long lasting diseases and require the patient to start a regular treatment regimen including medication and lifestyle changes. The diagnosis of a chronic illness usually begins at the family physician's office, when the patient seeks treatment for symptoms common to chronic illness, such as pain, fatigue, and loss of function. If these symptoms are not severe enough to require hospitalization, the family physician is the best starting point, as they can to provide a diagnosis based on prior medical history.
The family physician will typically refer a patient with a suspected chronic illness to a specialist for further diagnosis and specific treatment recommendations. However, they continue to play a role after the referral to a specialist. Many specialists cannot see the patient on an ongoing basis, nor can they address symptoms or issues not directly related to the chronic health condition. Family physicians are more accessible to the patient and familiar with their medical history extending beyond the chronic condition. They can provide an important resource to the patient, which is ongoing assistance in the self-management of the chronic illness.
Self-management of chronic illness involves more than medications and lifestyle changes. All patients have a set of beliefs about the severity of the illness, the degree of its impact on their life, and their ability to cope not only with the illness but also with the impact of medication side effects and changes in their lifestyle. In this way, a family physician can play a role similar to that of a health coach. They can consult with the patient more frequently than the specialist, monitor their general health, and help implement ancillary services like home care and exercise, that empower patients to take charge of their own care and improve their quality of life.
The concept of medicine is shifting, from a one-size-fits-all formula to an emphasis on personalized care and preventative, pro-active medicine. The family physician, with their emphasis on frequent consultations with the patient, and their broad and deep knowledge of the patient's medical history, can play a major role in this shift of the paradigm to more personalized care.