Quality & Accreditation
---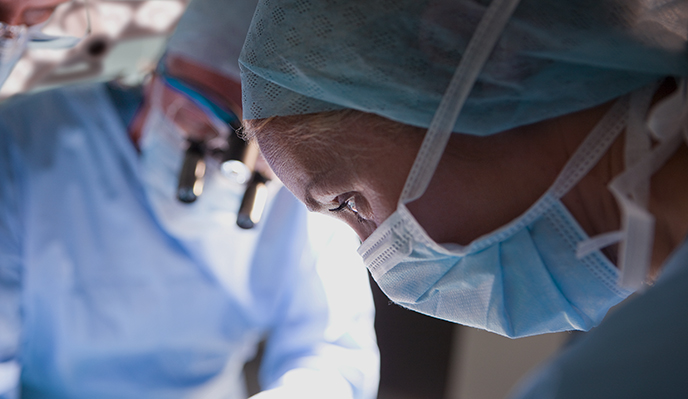 Awards & Accreditations
Our Mission: Partners for life, care you trust.
Our Vision: Together, we elevate health and wellbeing through compassionate care.
Quality Policy Statement: Everything about us is all about you, and it is manifested in our Quadruple Aim of Excellence, Cost, Outcomes, Satisfaction and Experience.
Below are some of our notable accreditations, awards and accomplishments.
---
Notable Accreditations, Certifications or Special Designations
Accreditation Council for Graduate Medical Education (ACGME) Accreditation
The Medical Center Navicent Health
Accreditation Commission for Health Care (ACHC): Sleep Lab Services
Medical Center Peach County
ACR Accreditation
The Medical Center Navicent Health, Medical Center of Peach County, and other Atrium Health Navicent Diagnostic Facilities
American Association of Blood Banks (AABB) Accreditation
The Medical Center Navicent Health
Atrial Fibrillation Accreditation
The Medical Center Navicent Health
Cardiac Rehab Certification
The Medical Center Navicent Health
Chest Pain with PCI Accreditation
The Medical Center Navicent Health
College of American Pathologist (CAP) Accreditation
The Medical Center Navicent Health, Medical Center of Peach County
Commission on Accreditation of Rehabilitation Facilities (CARF)
Atrium Health Navicent Carlyle Place
Commission on Cancer Accreditation
The Medical Center Navicent Health
Diabetes Education Accreditation Program
The Medical Center Navicent Health
DNV GL Accreditation
The Medical Center Navicent Health; Medical Center Peach County; Atrium Health Navicent Baldwin, Rehab Hospital Atrium Health Navicent & Monroe County Hospital In Partnership with Atrium Health Navicent
DNV GL Primary Stroke Center Certification
The Medical Center Navicent Health
Heart Failure Accreditation
The Medical Center Navicent Health
ISO 9001:2015 Certified
The Medical Center Navicent Health; Medical Center Peach County & Rehab Hospital
Magnet Recognized (American Nurses Credentialing Center)
The Medical Center Navicent Health
Metabolic and Bariatric Surgery Accreditation and Quality Improvement Program
The Medical Center Navicent Health
National Accreditation Program for Breast Centers (NAPBC)
The Medical Center Navicent Health
Nationally Verified Level 1 Trauma Center
The Medical Center Navicent Health
Navicent Health Builds a Knowledge Management Eco System with PolicyTech
Case Study Publication, February 2021. Link
Rehab Hospital Navicent Health Improves Access to Care with Lean Six Sigma
Institute of Industrial & Systems Engineers (IISE): ISE Magazine, Feb 2021.
TJC Left Ventricular Assisted Device Certification
The Medical Center Navicent Health
---
Notable Awards and Accomplishments
1st place > 300 hospital beds - Circle of Excellence Award
Quantros 2020 Patient Safety Awards:

Stroke Care Top 100 Hospitals in the Nation
Cardiac Care Top 100 Hospitals in the Nation
Cancer Care Top 100 Hospitals in the Nation
Heart Attack Treatment Top 100 Hospitals in the Nation
Overall Medical Care Top 100 Hospitals in the Nation
National Publications:

Heart of Change, American Society for Quality (ASQ), Quality Progress Magazine (Feature Article), January 2020
Redesigning Human Capital for High Performance Healthcare Organizations, Institute of Industrial & Systems Engineers (IISE): ISE Magazine (Cover Story-2020 and Beyond), February 2020
The Human Value of a Good Process, Institute of Industrial & Systems Engineers (IISE): Industrial Management Magazine, May 2020
Leveraging Knowledge to Transform Organizational Effectiveness,' American Society for Quality (ASQ), Quality Progress Magazine, Cover Story, June 2020
Tackling COVID 19 Lab Test Delays with Lean Six Sigma, Institute of Industrial & Systems Engineers (IISE): Industrial Management Magazine, July 2020
Post COVID 19 Healthcare Enterprise Paradigm, Institute of Industrial & Systems Engineers (IISE): Industrial Management Magazine, October 2020
Atrium Health Navicent Provides Safer-More Effective Care with ISO 9001:2015 Certification, American Society for Quality (ASQ), Quality Progress Magazine, Feature Article, September 2020
2019 Vizient Southern States Brilliance Awards x2
Atrium Health Touchstone Awards 8/19

Gold - Care Coordination Model
Silver - Reduction of Colon SSI
Silver - Holding Gains in VAE
Bronze - Innovative Hand Hygiene Technology
National Publications:

Cracking the Code to High Performance, Institute of Industrial & Systems Engineers (IISE): Industrial Management Magazine, September 2019
Redefining Value for Healthcare, Institute of Industrial & Systems Engineers (IISE): Industrial Management Magazine, April 2019
The Transformational Healthcare Leader of Tomorrow, Institute of Industrial & Systems Engineers (IISE): ISE Magazine (Cover Story), February 2019

National Webinar:

AHA/Navex Global National Webinar (co-creator/presenter): "˜Key Elements to Implementing an Effective Policy Management Program'; June 2019

Top 100 Hospital for Patient Safety
Top Hospital by CareChex for Stroke Care
Get with the Guidelines Stroke Gold Plus Award
Most Wired (CHIME)
Nationally Recognized Quality:

Cardiology & Heart Surgery Category
New TAVR Program 2018
New Mitral Clip Program 2018
High-performing in the following ten adult specialties:

Cancer
Diabetes & Endocrinology
Gastroenterology
Geriatrics
Gynecology
Nephrology
Neurology & Neurosurgery
Orthopedics
Pulmonology
Urology

National Publications:

"˜Atrium Health Navicent's 15-Week Road Map to ISO 9001 Certification,' Institute of Industrial & Systems Engineers (IISE): ISE Magazine (Feature Article), May 2018
"˜Is Your Aim on Target? (Lean Six Sigma Project Selection),' Institute of Industrial & Systems Engineers (IISE): Industrial Management Magazine, September 2018

Top 100 Hospital for Patient Safety
Top Hospital by CareChex for Stroke Care
US News and World Report - Rated High Performing in 4 Adult Procedures Conditions
Get with the Guidelines Stroke Gold Plus Award
National Publications:

Optimizing Emergency Services with Lean Six Sigma (DMAIC), Institute of Industrial & Systems Engineers (IISE): ISE Magazine (Cover Story), February 2017
The Art of Lean Six Sigma in Healthcare (Do's & Don'ts), Institute of Industrial & Systems Engineers (IISE): Industrial Management Magazine, December 2017
Are You Leading or Lagging? (System KPI Design & Development), Institute of Industrial & Systems Engineers (IISE): ISE Magazine (Feature Article), December

Target Stroke Honor Role Elite Plus