General Surgery Residency
CDAC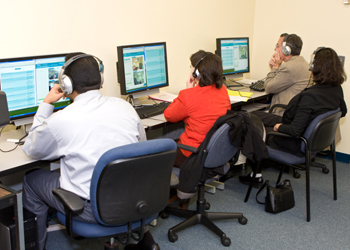 CDAC is a new state of the art facility which was opened in December, 2008 at the Mercer University School of Medicine. The center offers a venue that is used for both skill development and professional assessment. This service is provided through the use of Standardized Patients (SPs), and is accomplished by interviewing and examining SPs over the course of three years.
Center capabilities include the following:
Development of appropriate case materials, recruitment, and training of Standardized Patients, and organization/implementation of all center events.
Video recording and computerized scoring of all sessions.
Live encounter and recorded observations with annotation capabilities for faculty.
Timely feedback and statistical data for both students and faculty mentors.
Students in years one and two of medical school will have practicums relating to each phase of their curriculum followed by a year-end exam. The Center will continue in its role by administering the third year Clerkship Rotation (Family Medicine, Internal Medicine, Pediatrics, Psychiatry and Surgery) Standardized Patient Assessments.
Upon completion of the third year, the Center will conduct a Clinical Procedure Exercise (CPEX) designed to evaluate the students' clinical skills and to help them prepare for the United States Medical Licensing Examination Step 2 CS.
Possibilities for use in other university disciplines is now being researched and developed.