Atrium Health Navicent Beverly Knight Olson Children's Hospital
Our Services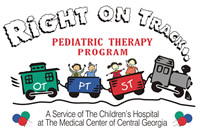 At Right on Track Pediatric Therapy, our vision is to provide a comprehensive outpatient pediatric program with Occupational, Physical and Speech Therapy services.  We are committed to promoting the development of children to their fullest potential, while providing guidance and support to their families.
Our pediatric rehabilitation program offers a wide range of services to children infant to 18 years of age.  We are committed not only to the recovery of the physical needs of the child, but the emotional needs for the child and their family.  Our highly trained pediatric staff works with each patient to create a therapy program specific to the child's physical and emotional needs. Services are available on an outpatient basis and require a physician referral. Our services Include:
Physical Therapy
Speech and Language Therapy
Aquatic Therapy
Assistive Technology
Oral Motor/Feeding Therapy
Voice Therapy
Splinting
Parent Education
Occupational Therapy
Right on Track Pediatric Therapy Program is dedicated to providing the best possible services to your child in a family-centered environment.  We look forward to serving your therapy needs.  Please contact our Referral Coordinator at (478) 633-2742 to make a referral or contact our Pediatric Therapy Coordinator at (478) 633-2045 with any questions concerning our program.
For more information call 478-633-KIDS.