Vish Bhalla, MBA, MS, SPXP, SPHR
---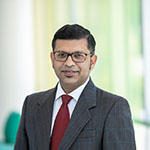 Vishal will elevate Atrium Health Navicent as a workplace-of-choice through commitment to organizational excellence in learning, growth and research.
As Navicent CHRO, Vishal ensures comprehensive, contemporary and effective HR strategies are executed across the market and in support of an agile workforce with an expanding "virtual" construct; lead our human resources team to deliver relevant, impactful and measurable services; and define the evolving HR integration between Atrium Health Navicent, Greater Charlotte Region and future regional partners.
As the Enterprise CXO, Vishal will serve as the leader and driver for the experience strategy - including patient, provider, teammate and volunteer experience - across Atrium Health. He will create and deliver nationally leading experiences across the continuum of care, leveraging system science, process design and technology.
Vishal joins us from Parkland Health & Hospital System in Dallas, Texas, where he served as CXO and was responsible for culture, patient experience, teammate experience, physician experience, and guest and volunteer experience in a county teaching hospital system. He was able to achieve improvement in engagement and satisfaction key metrics, such as:
Achieved HCAHPS scores in the 84-90th percentile for nine quarters in a row
Increased teammate engagement survey participation from 59% in 2014 and 2016 to 79% in 2017 and 88% in 2018
Increased mean teammate engagement score by 17 percentile ranks and nearly 6% over three years
Vishal is an experienced executive who is deeply committed to transforming the human experience through culture cultivation, collaborative innovation and service excellence. He is known for repeatedly delivering results leveraging a Lean Six Sigma Master black belt and data-driven continuous improvement mind-set, leaning on fundamentals of servant leadership, diversity and inclusion, facilitating a culture of transparency and systems thinking for rapid innovation.
Vishal completed his Master of Business Administration from the Massachusetts Institute of Technology (MIT) as well as a Healthcare Certificate from the joint Harvard-MIT Healthcare Innovation Initiative. He is certified in Diversity & Inclusion from Cornell and a Senior Professional in Human Resources. Vishal is a graduate of the Texas Hospital Association Fellows Program for 2019, serves on the Patient Experience Board of The Beryl Institute, on the Advisory Board of HR Exchange Network, and Editorial board of the "Patient Experience Journal." He also enjoys giving back to his alums as an Educational Counselor at MIT. Frequently published, Vishal has been invited to speak at experience-focused conferences in Abu Dhabi, Asia Pacific, Africa, Italy and across the United States.